They are made of a durable nylon web containing abrasive grain. In addition, these tools REX products can be used on almost all materials.  
Suitable power tools include angle grinders, straight grinders or the finishing machine.  
Materials that can be processed: 
Stainless steel (INOX) 
Steel 
Cast steel 
Copper 
Titanium 
Titanium alloys 
Bronze  
Aluminium 
Brass 
Zinc 
For the removal of: 
Scale 
Corrosion 
Rust /Oxidation
Annealing colours 
Varnish and paints 
Tough layers and adhesive 
Advantages: 
The open structure resists clogging
Comfortable handling through optimum contour adaptation and low vibration 
Reduced change to the workpiece geometry  
Products
Cleaning discs for metal surfaces
Aggressive cleaning products for angle grinders and straight grinders.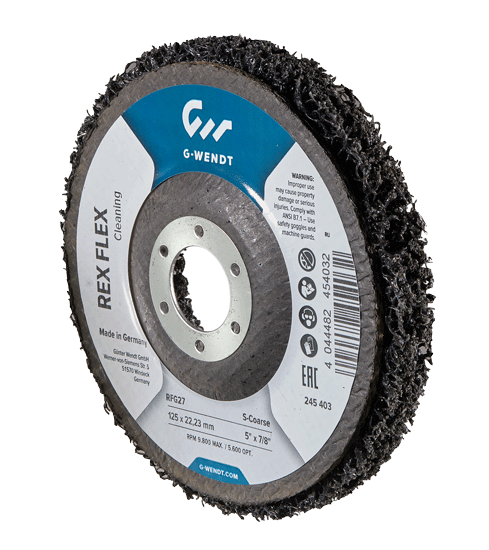 Cleaning wheels in industrial quality 
Shank mounted tools for preparation and cleaning of small surfaces or difficult to reach areas.