Finishing rolls
---
Our PU roll tools are ideal for the structuring large surfaces or preparing them for polishing. Unique bond and structure ensure gentle and cool finishing.
Thanks to their increased flexibility, the rolls adapt to contours and can also be profiled at low speed.
The blue version is suitable for aluminium and the grey variant for steel and stainless steel (INOX).
Details:
Suitable for: Finishing Machine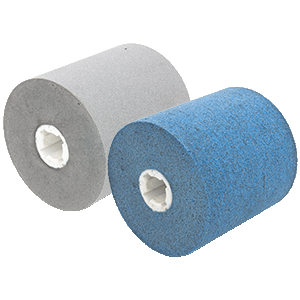 Type PUW
| Dimensions (mm) | | | Blue | Grey | RPM | | PU |
| --- | --- | --- | --- | --- | --- | --- | --- |
| Ø A | B | Ø C | | | opt. | max. | |
| 100 | 100 | 19 | 323 560 | 323 563 | 1.950 | 5.000 | 1 |