About G-WENDT
What we do
For 50+ years, we have been accompanying customers performing grinding, cutting and finishing of surfaces.
Working together, we have developed unique solutions for leading industrial companies and distributors.
Benefit from high-quality
cutting discs,
flap discs,
flap wheels or our patented felt
polishing tools.
In addition, we are happy to support you with problem-solving, product training at our test centre, or provide information on our extensive product range.
The challenges presented by our customers could not be more diverse. This demands a program to support unlimited applications.
We provide our partners with first-class tools, detailed consulting services and extensive process experience – from cutting to high-gloss polishing.
Industry solutions
Individual requirements are unique for each customer. This is why we provide product solutions tailored to meet your needs. At the end of the day it's all about efficiency.
See for yourself at G-WENDT.
Metalworking

The metal industry makes a substantial contribution to Germany's gross value added and with an export share of approximately 50% is considered a consistently important exporter. In addition, it is one of the most versatile industries and often demands perfection down to the smallest detail. Providing first-class services, sometimes under difficult working conditions, is a great challenge. With our many years of experience in the field of metal processing, we are always at your side, and together we will find solutions to increase process efficiency.

Ship building

Alongside its Asian and Italian competitors, Germany is still considered to be a successful shipbuilding nation. When you consider that more than two thirds of all goods traded worldwide are transported by ship, the importance of this sector of the economy quickly becomes apparent. Nevertheless, the oversupply of the large competition and the coronavirus pandemic are making the current crisis situation even worse. So don't leave the choice of your tools to chance, rely on the quality and depth of our product assortment.
Thats what our customers say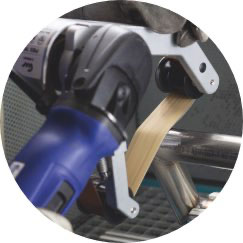 Andres B.

Latein Amerika

"If I had only a few words to describe the products and services of Günter Wendt GmbH, they would be: innovative, consistent quality and customer-oriented service. Thank you for more than 30 years of cooperation!"

Philip F.

Partner in China

"From the very beginning, the commitment to customer satisfaction was noticeable. Both in terms of performance and cost. Especially as a wholesaler in the Chinese market, it is important for us that our partners can adapt quickly. German quality products are proving more and more to be problem solvers and make the decisive difference in the right place. In this respect, Wendt continues to be our first choice."

Mohammed Mubeen

Dubai, U. A. E.

"We have been working with WENDT since 2012 and especially value the open and honest relationship with the entire team. Company WENDT was selected as our primary supplier of high quality abrasives because of their knowledge, responsiveness and flexibility. They always do what they say and the support is superb. If we had an issue today, we can count on WENDT to help us solving the problem immediately."

BK Sintur

Partner in Russland

"Our company has been working with WENDT since 2008. In the course of this time, we have not only become business partners, but good friends. Mr Frank Wendt is a true professional in his field. Managing directors like him are rare."

Amarill

Russland

"Amarill would like to thank Günter Wendt GmbH, which proved to be a highly professional manufacturer of grinding and polishing tools and a reliable supplier. In the course of several years of cooperation, the company showed perfect understanding of customer needs and the art of finding the best and fastest possible solution to any technical challenge. We wish Günter Wendt GmbH every success for the future, and hope to continue working together productively."

David Gillespie

USA

"As president of Merit Abrasives and owner of Premium Abrasives, I have known Wendt's excellent products for the last 30 plus years. Our customers loved the quality of Wendt products. There is no secret to their success – the Wendt family is knowledgeable and passionate about their business. They are wonderful people that work hard and know what they are doing. I have been fortunate to be able to do business with them and even more fortunate to call them my friends."
Many of our ideas originated as solutions for industrial applications. For this reason, our production is not exclusively focused on standard products and is regarded as one of the most flexible in the industry.
For half a century, we as a family-run company have been dedicating ourselves to the production of abrasives and polishing tools.
You can rely on our expertise.
A particularly broad as well as deep product range offers you solutions for countless areas of application.
Do you have any questions?
Write to us.
G-WENDT
Customer Service Deutschland
T: +49 (0) 2292 / 9140-0
E: info@g-wendt.com