Available in several cut patterns and multiple shapes and sizes.
Read more

Wendt burrs are suitable for a wide range of materials. We also offer long shaft versions for machining areas that are difficult to reach.

With these tools, we rely on precise balance, a long tool life and aggressive cutting performance.

Processing tasks:

Deburring
Weld seam processing
Routing
Material removal

Materials that can be processed:

Stainless steel (INOX)
Steel
Aluminium
Cast iron
Non-magnetic metals
Carbon fibre bond materials
Plastic
Fibreglass

Benefits:

Top quality
Precisely manufactured and balanced
Extremely user-friendly
Numerous shapes, sizes and tooth systems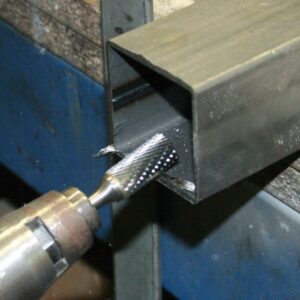 Powermax HDC
Deeper cut pattern provides more aggressive cutting performance on cast iron, steel and stainless steel (INOX).
VIEW PRODUCT
Cross toothing – Double Cut
Rapid material removal on carbon steel and stainless steel (INOX).
VIEW PRODUCT
Aluminium Cut
An open, coarse pitch resists loading on aluminium, NF metals, plastic or fibreglass.
VIEW PRODUCT