Our cross pads are made of high-quality aluminium oxide abrasive cloth. They are used in combination with the available 6mm mandrel.
These special tools enable:
Fast cleaning and finishing inside tubes and pipes
Flexible design conforms to the inside surface
Optimum grinding results thanks to even wear
Possible processing tasks:
Processing inner diameters
Grinding difficult to reach areas
Remove imperfections and finish
Materials that can be processed:
Steel
Stainless steel (INOX)
Metal alloys
Our cross pads are optimised for working with straight grinders.
Cross pads – aluminium oxide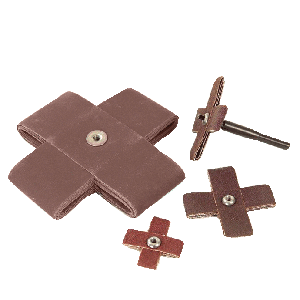 Details:
Suitable for: Straight Grinder
Type SK
| Dimensions | | | | Aluminium Oxide | | RPM max. | PU |
| --- | --- | --- | --- | --- | --- | --- | --- |
| Diameter | Width | Layers | Eye | A60 | A80 | | |
| 38 | 12 | 8 | 8-32 | 900 320 | 900 321 | 23.000 | 100 |
| 50 | 12 | 8 | 8-32 | 900 330 | 900 331 | 23.000 | 100 |
| 50 | 20 | 8 | 8-32 | 900 340 | 900 341 | 23.000 | 100 |