Compounds
---
Utilizing various compounds allows an operator to change the degree of finish they can achieve. WENDT offers several compound specifications. Each is packaged in easy-to-apply 1" x 5" sticks.
Tip – Do not mix rouges or polishes on the same wheel or disc as this will affect the finish.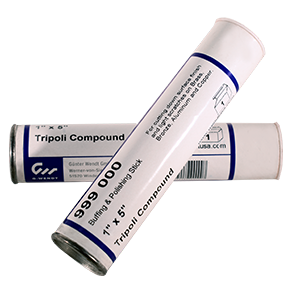 Name
Color
Item
Description
PKG
Emery
Gray
999 004
For coarse buffing and removing light scratches.
Also removes light rust or corrosion from iron, steel and other metals.
1
Tripoli
Tan
999 000
Removes light scratches from metal and plastic. Also works well on brass & aluminium.
Mild cutting with good coloring.
1
Stainless
Gray
999 005
Provides fast cutting action and good coloring. Creates gloss finish on a wide
range of materials including steel, stainless, chrome, nickel and plastics.
1
White Rouge
White
999 001
Creates a high gloss finish on non-ferrous materials like aluminium and stainless steel.
1
Jeweler's Rouge
Red
999 002
Finest abrasive. A premium composition for the finest finish on gold, silver and other precious metals.
1
Bold part numbers denote stock items. All other part numbers have a minimum order requirement. Please call for details.