Our cartridge rolls are available in both tapered and straight cylindrical shape and made with aluminium oxide abrasive cloth or Trizact™ material.
The difference in the materials is that aluminium oxide wears evenly for consistant stock removal. Trizact™ material is intended for exceptionally fine finishing.
Thanks to their design and the material used, these tools are particularly long-lasting and thus save retooling times.
Cartridge rolls enable:
Easy access to corners, grooves and profiles
Versatile grinding work and even processing of grooves, corners, pipes and holes (cartridge rolls made of aluminium oxide)
Optimum finish in the smallest of corners and grooves (cartridge roles made of Trizact™)
Possible processing tasks are:
Grinding difficult to reach areas
Blending and deburring up to fine finishing
Materials that can be processed:
Steel
Stainless steel (INOX)
Metal alloys
These tools are designed for working with straight grinders.
Cylindrical cartridge rolls – Trizact™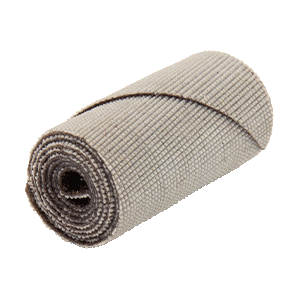 Type SR
| Dimensions (mm) | | | Article No. | RPM max. | PU | Appropriate mandrel | | PU |
| --- | --- | --- | --- | --- | --- | --- | --- | --- |
| Ø A | B | Ø C | A30 | | | 3 mm | 6 mm | |
| 8 | 25 | 3,2 | 159 708 | 26.000 | 10 | 161 911 | 161 921 | 1 |
| 13 | 25 | 3,2 | 159 728 | 26.000 | 10 | 161 911 | 161 921 | 1 |
Cylindrical cartridge rolls – aluminium oxide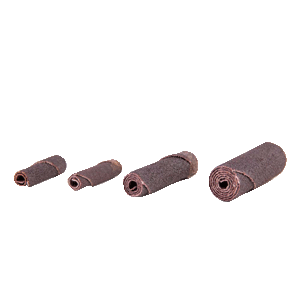 Type SR
| Dimensions (mm) | | | Aluminium Oxide | | | | RPM max. | PU | Appropriate mandrel | | PU |
| --- | --- | --- | --- | --- | --- | --- | --- | --- | --- | --- | --- |
| Ø A | B | Ø C | A60 | A80 | A120 | A180 | | | 3 mm | 6 mm | |
| 4,8 | 19 | 2,4 | – | 158 084 | 158 086 | 158 088 | 26.000 | 100 | 161 901 | – | 1 |
| 4,8 | 25 | 2,4 | – | 158 104 | 158 106 | 158 108 | 26.000 | 100 | 161 902 | 161 905 | 1 |
| 6 | 25 | 3,2 | 158 163 | 158 164 | 158 166 | 158 168 | 26.000 | 100 | 161 911 | 161 921 | 1 |
| 6 | 38 | 3,2 | 158 183 | 158 184 | 158 186 | 158 188 | 26.000 | 100 | 161 913 | 161 927 | 1 |
| 8 | 38 | 3,2 | 158 283 | 158 284 | 158 286 | 158 288 | 26.000 | 100 | 161 913 | 161 927 | 1 |
| 10 | 25 | 3,2 | 158 363 | 158 364 | 158 366 | 158 368 | 26.000 | 100 | 161 911 | 161 921 | 1 |
| 10 | 38 | 3,2 | 158 383 | 158 384 | 158 386 | 158 388 | 26.000 | 100 | 161 913 | 161 927 | 1 |
| 10 | 50 | 3,2 | 158 403 | 158 404 | 158 406 | 158 408 | 26.000 | 100 | – | 161 933 | 1 |
| 13 | 25 | 3,2 | 158 463 | 158 464 | 158 466 | 158 468 | 26.000 | 100 | 161 911 | 161 921 | 1 |
| 13 | 38 | 3,2 | 158 503 | 158 504 | 158 506 | 158 508 | 26.000 | 100 | 161 913 | 161 927 | 1 |
| 13 | 50 | 3,2 | 158 543 | 158 544 | 158 546 | 158 548 | 26.000 | 100 | – | 161 933 | 1 |
| 19 | 25 | 4,8 | 159 083 | 159 084 | 159 086 | – | 18.000 | 100 | – | 161 948 | 1 |
| 19 | 38 | 4,8 | 159 143 | 159 144 | 159 146 | – | 18.000 | 100 | – | 161 952 | 1 |
| 25 | 38 | 6,4 | 159 403 | 159 404 | 159 406 | – | 15.000 | 100 | – | 161 966 | 1 |
Tapered cartridge rolls – aluminium oxide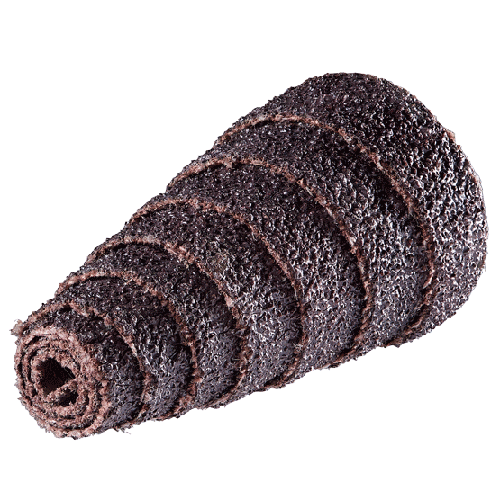 Type SRK
| Dimensions (mm) | | | Aluminium Oxide | | | RPM max. | PU | Appropriate mandrel | | PU |
| --- | --- | --- | --- | --- | --- | --- | --- | --- | --- | --- |
| Ø A | B | Ø C | A60 | A80 | A120 | | | 3 mm | 6 mm | |
| 10 | 25 | 3,2 | 160 003 | 160 004 | 160 006 | 26.000 | 100 | 161 911 | 161 921 | 1 |
| 10 | 38 | 3,2 | 160 023 | 160 024 | 160 026 | 26.000 | 100 | 161 913 | 161 927 | 1 |
| 13 | 25 | 3,2 | 160 063 | 160 064 | 160 066 | 26.000 | 100 | 161 911 | 161 921 | 1 |
| 13 | 38 | 3,2 | 160 083 | 160 084 | 160 086 | 26.000 | 100 | 161 913 | 161 927 | 1 |
| 19 | 25 | 3,2 | 160 323 | 160 324 | 160 326 | 18.000 | 100 | 161 911 | 161 921 | 1 |
| 19 | 38 | 3,2 | 160 383 | 160 384 | 160 386 | 18.000 | 100 | 161 913 | 161 927 | 1 |
| 25 | 38 | 4,8 | 160 643 | 160 644 | 160 646 | 15.000 | 100 | – | 161 952 | 1 |