Hand Pads – nonwoven abrasive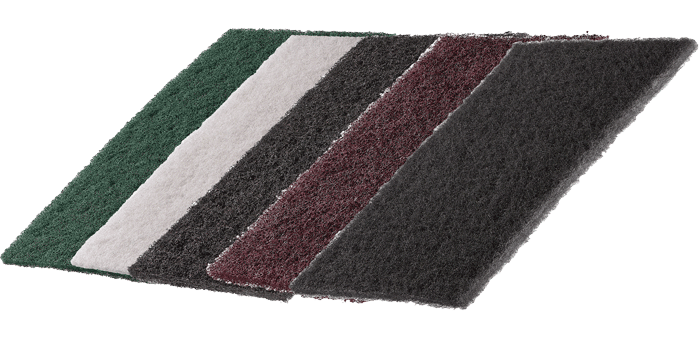 These practical helpers conform to the surface to provide a uniform finish. They can be used on virtually any material including steel, Inox, aluminium, plastics and wood. Hand pads can be used wet or dry.
Suitable applications:
Surface cleaning and preparation
Removal of oxidation or paint
General finishing
Light deburring
Details:
Suitable for: Hand Sanding
Consistent finishing results on numerous metal surfaces.
Type VH
| Dimensions (mm) | | Colour (Abrasive) | Material Description | Article No. | PU |
| --- | --- | --- | --- | --- | --- |
| 150 | 230 | Green (Aluminium Silicate) | GP – Green | 963 030 | 10 |
| 150 | 230 | Red-brown (Aluminium Oxide) | A – Coarse | 963 032 | 10 |
| 150 | 230 | Red-brown (Aluminium Oxide) | A – Medium | 963 035 | 10 |
| 150 | 230 | Red-brown (Aluminium Oxide) | A – Fine | 963 036 | 10 |
| 150 | 230 | Red-brown (Aluminium Oxide) | A – Very Fine | 963 037 | 10 |
| 150 | 230 | Black (Silicon Carbide) | S – Medium | 963 040 | 10 |
| 150 | 230 | Black (Silicon Carbide) | S – Very Fine | 963 042 | 10 |
| 150 | 230 | Grey (Silicon Carbide) | S – Ultra Fine | 963 041 | 10 |
| 150 | 230 | White (Non-Abrasive) | Non-abrasive | 963 044 | 10 |